Your next temp-job is 3-5 clicks away.Find Gig-Work & Hourly Jobs on

312

Gig-Platforms.
New On GigSmash
The GigSmash BlogYour ultimate source of tips and tricks for nailing your gig work and life.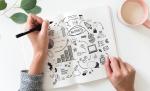 We know that the work of a designer is much more complex than just making things look good, his work is a delicate balance between appearance and functionality.
Gig Economy Expert? Get In Touch.